Welcome to the new online Gallery for the LEVEL Centre.
Here you will find images from our current Installations, Exhibitions, Projects, Events and New Research & Development programme.  We are currently developing a new National Photography project (Re-Frame) details of which will be posted here shortly. These pages also provide an archive containing past images and iconic projects.
We are still in the process of populating this site so please come back and check on our progress.
Images of the Month – December 2017
Images taken of the Light Sculpture created in the event space at LEVEL during Sept, Nov. and Dec. 2017. This project provided a space for people to create sculptures using EL lighting held by suspended wire frames. When the group were happy with the shapes and effects created participants then took long exposure images using DSLR cameras which were then projected into the sculpture to create stunning light environments and immersive spaces. Picture of the month below: Image by Andrea Leigh.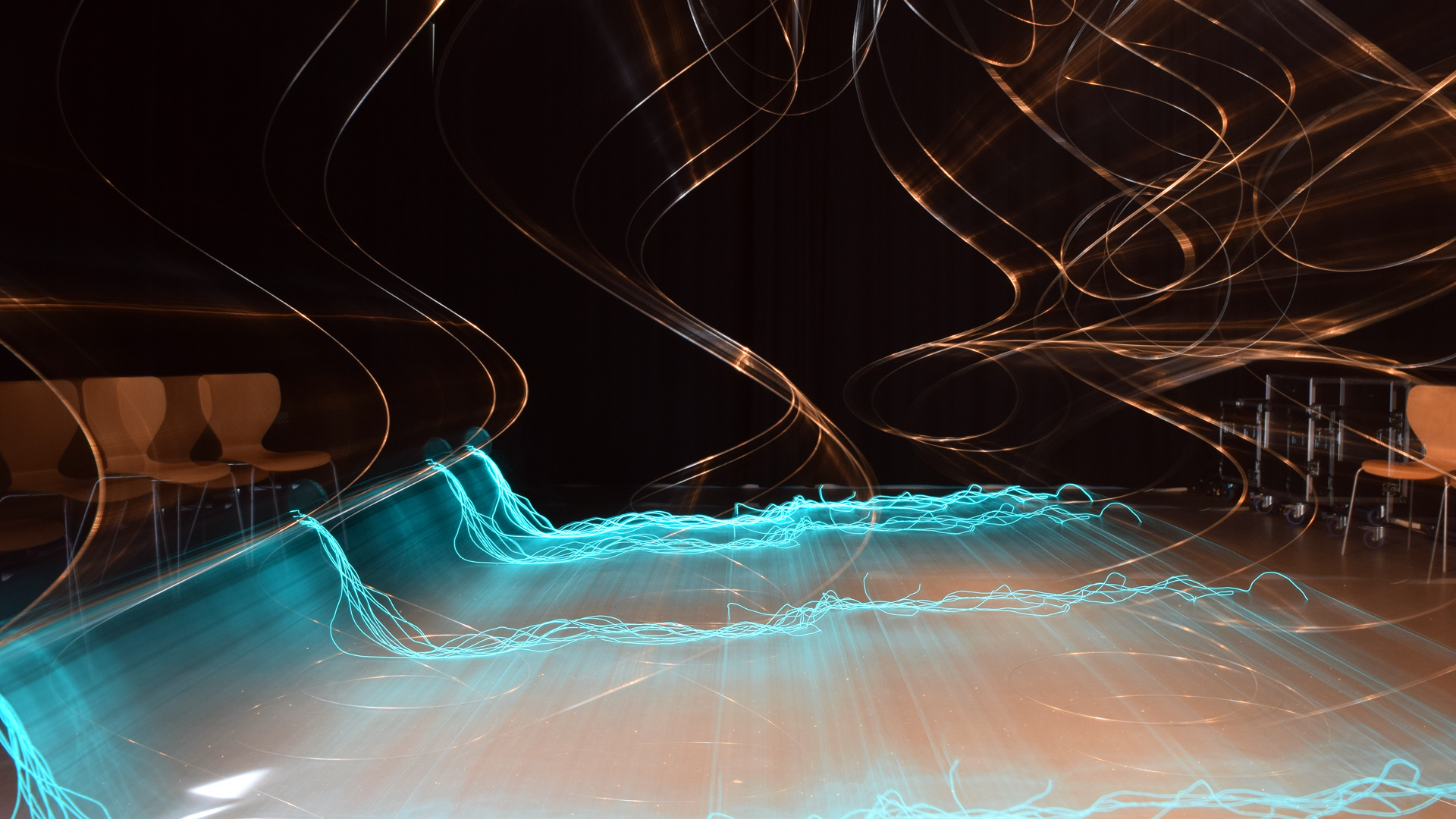 Gallery No:1 – BLACK LINE visual art installation created by the visual art team at LEVEL.
Gallery No:2 – Random Images from Visual Arts
Gallery No:3 – Images from the design of Level together with an early photo of the Level Project.
Gallery No:4 – Images from the All Dance Performances at Deda, Derby in December 2017.
PULSE Performance by SPIRAL (LEVEL Performance Company). A short documentation of a multi media performance featuring a soundtrack created from recordings of the river Derwent, its industrial heritage and its wildlife.
DERWENT PULSE a large scale environmental light installation by Charles Monkhouse. It was a celebration of the River Derwent and the Derwent Valley Mills World Heritage Site. It wove together past, present and future histories of the river, its culture and its people. Its pulsating Light Flow beat out the historic pulse of the mills as it travelled from the river's source on Bleaklow to its mouth on the Trent.
Limestone Journeys – a screen-based installation commissioned by Junction Arts to celebrate the conclusion of the five-year Limestone Journeys programme, funded through the Heritage Lottery Fund. It presents a slow moving visual landscape using the unique heritage and biodiversity of three locations – Pleasley Vale, Poulter Country Park and Creswell Crags – as a catalyst and source of inspiration. The work comprises several elements: Photography, Visual Art, Sound Recording, Film and performance, combining them together to create a 25 minute audio visual journey. Performed by Karla Jones, James Urquhart, Simon Spencer, Frances Hunt, Francesca Coates, David Salisbury. Visual Art by people attending LEVEL. Installation, Audio and Video created and directed by Andrew Williams.