FRACTURED GROUND
Documentation
Fractured Ground began in 2016 and was the first of the CONTAINER projects. The research & development process placed emphasis upon our somatic (of the body) senses rather than our normal rational/intellectual approach to creating, collating, structuring and valuing information and art. The Fractured Ground Project comprised three elements:
Fracture – a 3 screen audio-visual installation

Fractured Ground – a series of live performances
Participation & engagement events
Installation & Performance
Fracture is a three-screen audio-visual installation created by Andrew Williams in 2016. Combining visual elements of recorded performances (by performers Karla Jones & Jo Shaw), macro photography of the skin and surfaces of water with a powerful soundscape sculptured from field recordings mixed with processed sound. Fracture presents a powerful personal and intimate work exploring the physicality of the body within different environments. The screens are synchronised with the sound and the work is 25mins in duration. Fracture was installed at LEVEL for 3 months and provided the audio-visual environment for improvised physical performances created by dancer Karla Jones and participants at LEVEL.
Fractured Ground: a series of improvised live performances by Dancer Karla Jones in collaboration with Andrew Williams. These performance events were based upon an artistic response to a series of simple questions: When thinking about creating dance, what happens when we do not choreograph or pre-plan our movements but just allow our body to move in relation to how we feel within an environment? How does the environment change our behaviour and movement? Using physical properties of mud, soil, sand and stone – outside/inside locations – naked or clothed, together with specific sensual properties: hot, cold, comfortable/uncomfortable, can we uncover a new artistic language?
It attempted to throw into shadow our 'normal' rational/intellectual approach to creating, collating, structuring and valuing information and art, and instead shine an interrogatory light on what can be created when emphasis is placed upon our somatic senses.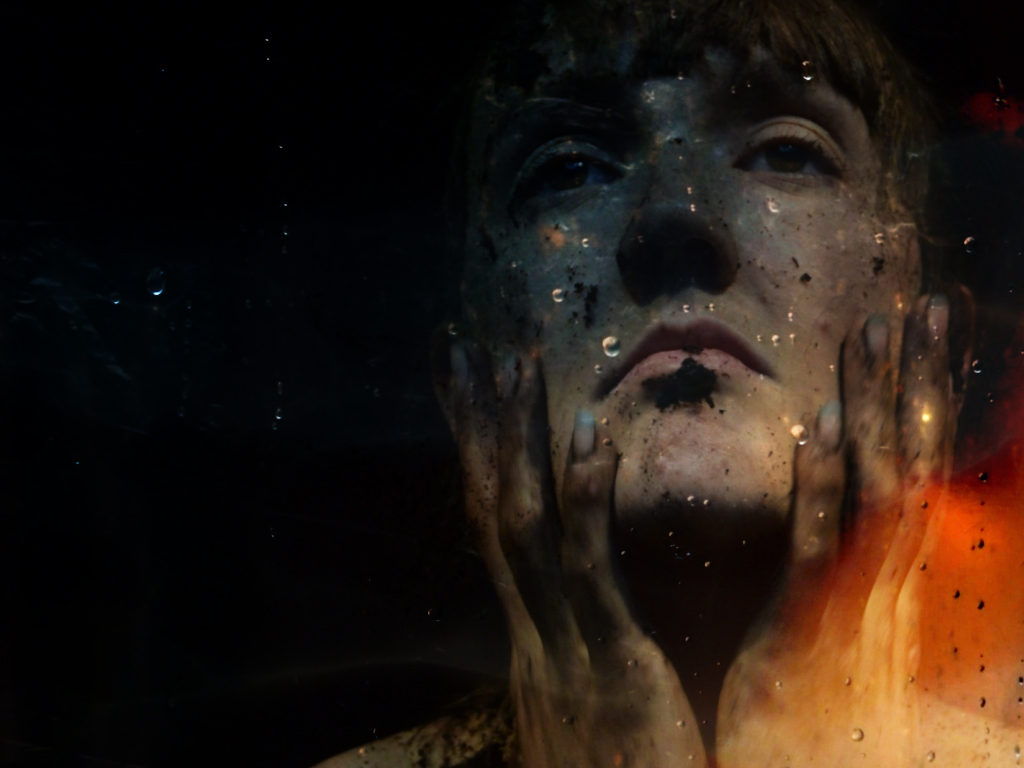 Karla created a series of improvised Installation/Performance Art events with the audience moving between two very distinct environments at LEVEL. The first, a large space with sand covering the floor lit softly by two diagonal floor lights. Video created using macro images of skin played on two CRT TVs and a low throbbing drone underpinned the performance. The second part took place within the three-screen Fracture audio-visual environment using water and soil as the somatic stimulation. The performances had a ritualistic element, using each substance to mark the body and leaving trails in the floor that became a part of the installation itself.
The first events took place in November 2016 and each performance sold out.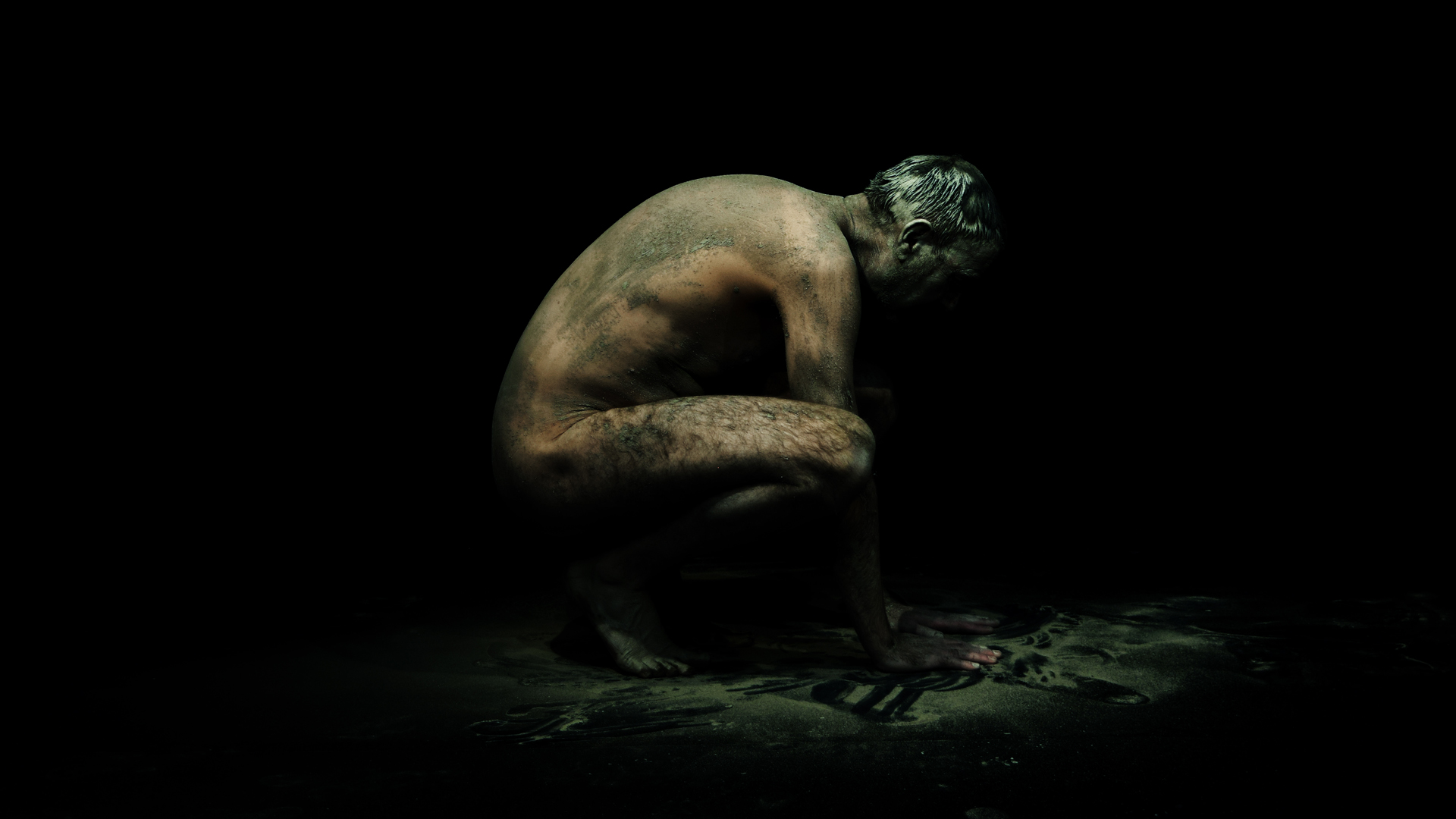 Participative Events & Workshops
Fractured Ground was an important project for LEVEL and its new Director Andrew Williams. It combined and developed many things that underpin much of the work at LEVEL and was able to cement new practice, new ways of engagement and attract a wide audience for the work. Successfully navigating this project required research and thinking that has helped refine our philosophy, methodology, research process and ideological foundations & aspirations. At its core is the inclusion of our approach to working with people with complex needs (using somatic rather than cognitive stimulation), our desire to provide high quality cultural experiences for this sector of society (and a mainstream audience – with no distinctions between them) and a wish to engage all involved in 'care culture' through art & debate. Fractured Ground provided the core material for the LEVEL programme over a three month period with workshops running alongside the installation and events.
Excerpt from a review by Arts Council England.
After the first section of the workshop was complete, we went through to a second space where the film, Fracture, created by Andrew Williams was projected across three walls in an immersive experience. This was an extraordinarily beautiful work intimately exploring the physicality of the body in different environments mud, sand, water. The reactions of the group to the work were captured through conversation, eliciting reactions and questioning how people felt about specific sequences. Again, the facilitation of this was focused with the well-­being of each individual at the centre of the activity, and while it was challenging to capture reflection and the articulation of the experience in much depth, it was clear that the film had a significant impact on the group. One comment was that 'it was not right' to see one of the performers completely naked, which led to a discussion about why the decision might have been taken to show the body so clearly. This developed into quite a sophisticated debate about whether it is OK to show naked bodies when the intention is to look at how the body works, as opposed to what might be considered inappropriate nakedness. The confidence around how this conversation was handled reflected the level of trust that the participants feel during the sessions, and was indicative of the long standing working relationship that they have enjoyed to date.
———————————–
Experiencing the two workshops was an enriching and inspiring experience because I have not seen this level of sophistication used in this type of participatory work other than during performances. The inclusion of so many different stimulating elements, structured specifically for use in this context, show how it is possible to combine artistic practice and vision with participatory practice in order to create experiences which go far beyond providing activities, moving instead to the situation where every individual becomes an artist, creating something unique during their time in the session.
Arts Council Assessment 2016.