EXHIBITIONS & INSTALLTIONS AT LEVEL
---
November – December 2018
LEVEL presents a major installation of digital artworks by artist Will Hurt.
Join us to experience the Abstract Playground, Mass, Botanical Geometries and Plotter Drawings. Each of these have been imagined using computers to create brightly coloured, playful, digital interactive art which bring people together, forge connections and afford you a moment to play.
If you would like to visit LEVEL to experience Abstract Playground, please call 01629 734848 for opening times.
Facilitated Tours for Groups
Throughout November and December LEVEL are able to offer groups. schools and day centres the opportunity to have a facilitated tour of the exhibition at LEVEL.
To find out more, book a place or discuss your groups needs please contact imogen@levelcentre.com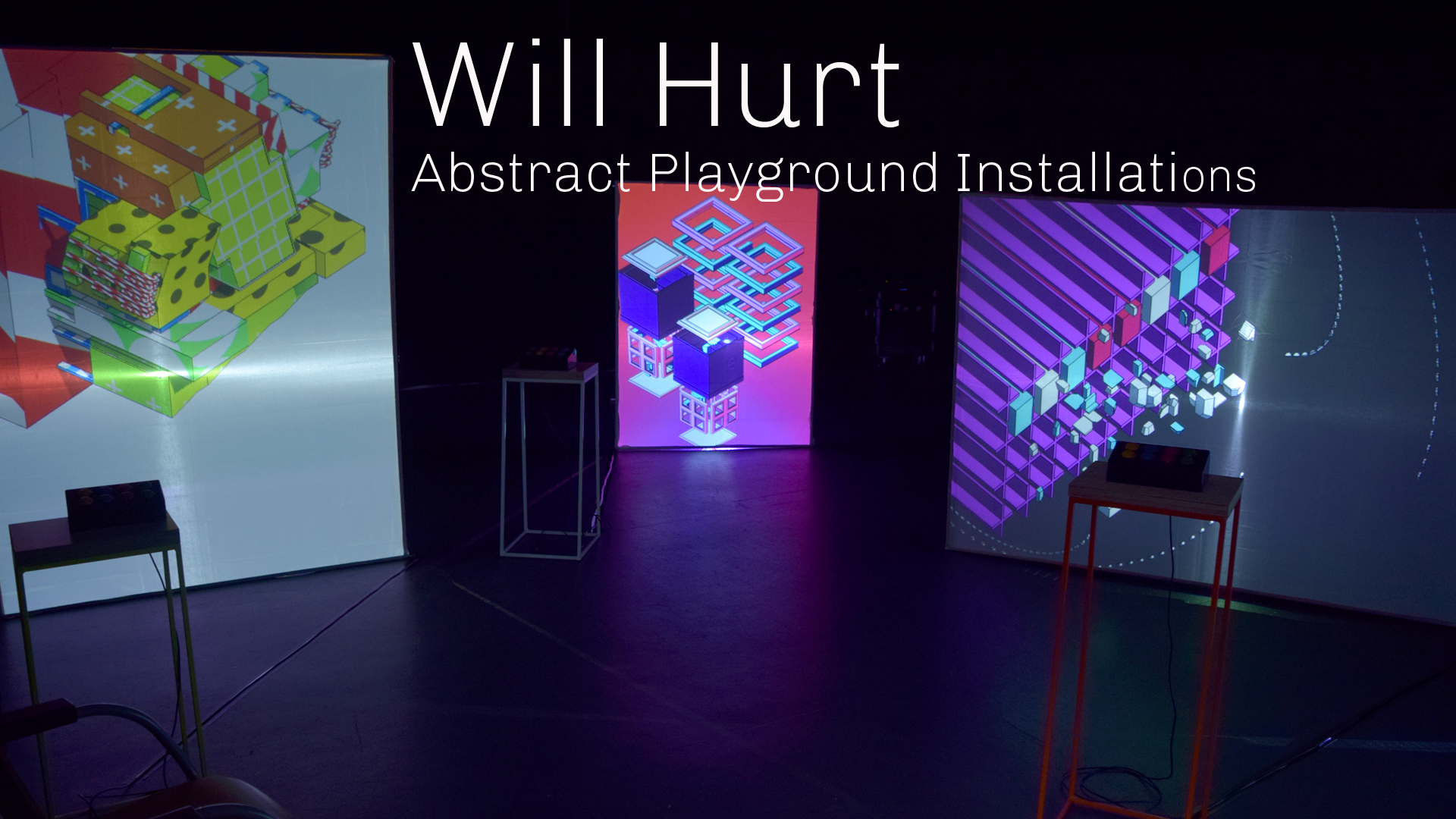 Abstract Playground was originally commissioned by LEVEL in 2016. Since this time Will has continued to develop this exciting work and it was recently shortlisted for the 2018 LUMEN Prize.  Over the past two years the original iwork has been installed in several different spaces at the Level Centre. It has appeared on the large Level screens as a part of the Inter-ACT + Re-ACT programme (for which it was originally commissioned). It has formed a four screen installation in the Level Gallery and recently used as performance environment (projected onto 2 rows of gauze to create a 3D environment).  Abstract Playground provides a excellent example of how artists can create work based upon their own interest and direction and at the same time make it fully accessible to all. At Level we view this kind or work as a part of a research programme looking to examine how technology can impact upon the lives of people at many different Levels.
Abstract Playground as a single screen – as originally conceived to be a part of the Inter-ACT + Re-ACT programme.
A short video created by Will to document Abstract Playground. It features a short performance (during the development and testing process) using the programme as an instrument/composition tool.
---
Cafe Exhibitions (Local Galleries)
A series of visual art works created by people at Level through the visual art programme hanging in local cafes and public spaces. Current exhibitions are at Espresso (a brilliant cafe/deli in Darley Dale, Nr Matlock) and the Whitworth Centre providing bespoke outreach exhibition spaces for work created by learning disabled artists at Level. The current exhibition at Espresso comprises several abstract visual art works hanging throughout the cafe space.
Espresso Deli Cafe: 32 Lime Tree Avenue,Darley Dale, Matlock, DE4 2FS
http://www.espressodelicafe.co.uk/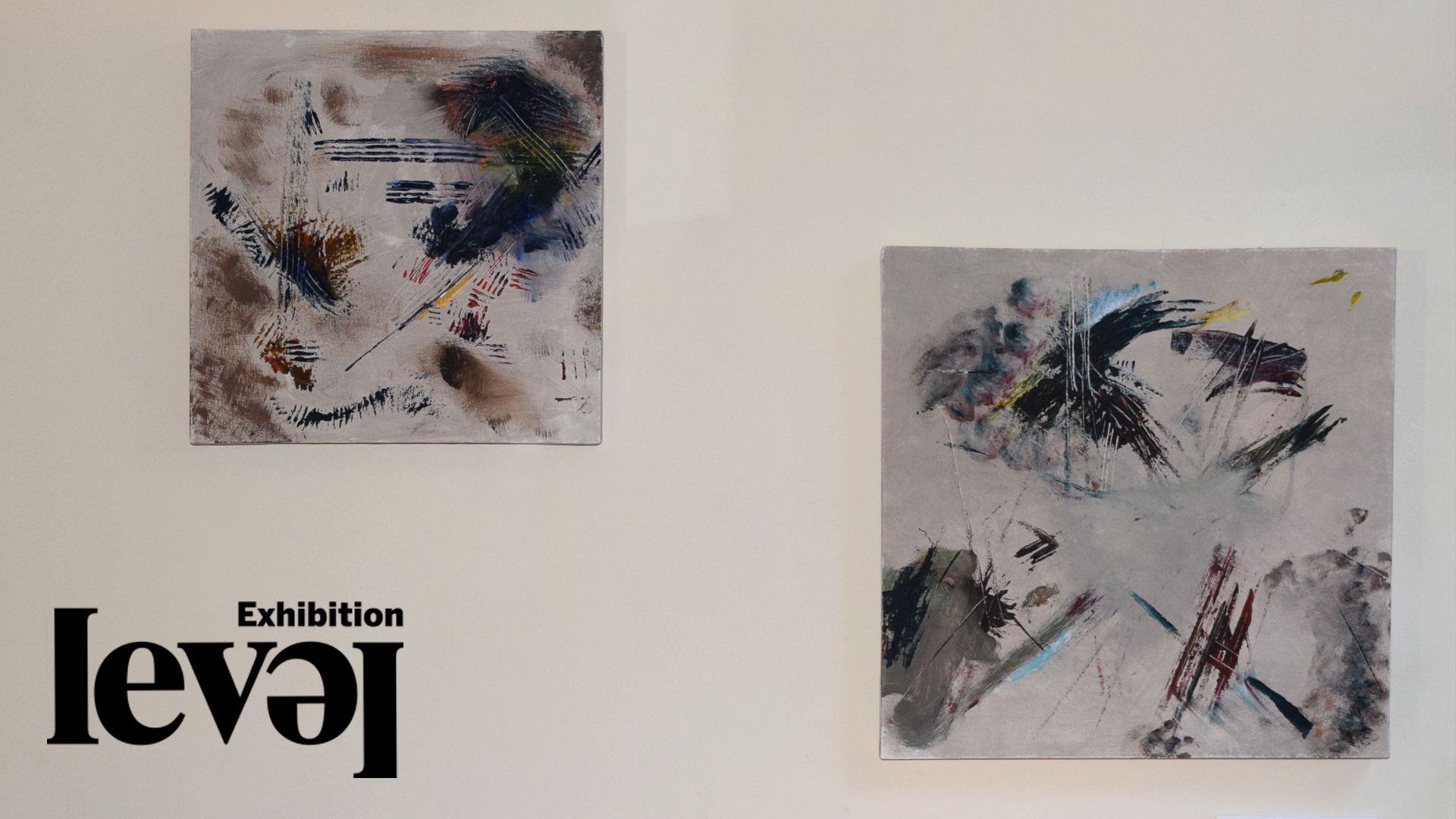 RECENT EXHIBITIONS & INSTALLATIONS
---
Light Choreographies

Immersive light sculptures by Angela Davies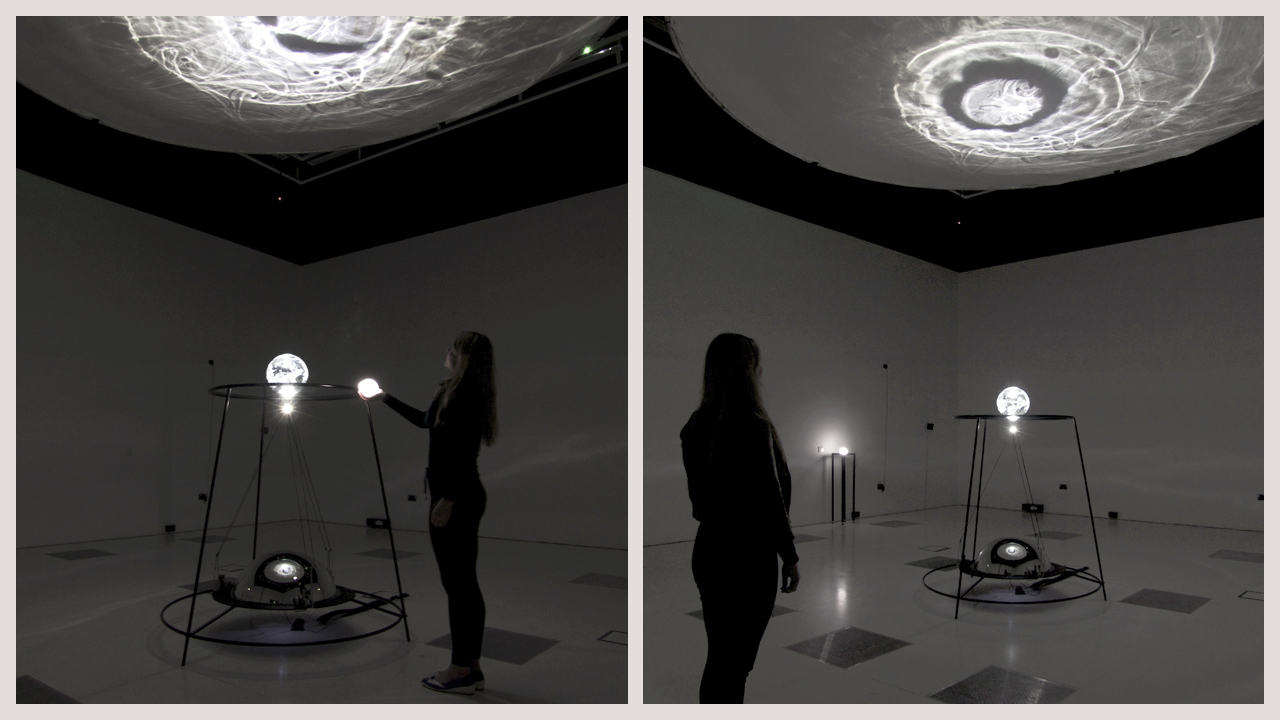 July 2017
Robots that map and choreograph patterns of human activity using light.
During July 2017 LEVEL invited artist Angela Davies to collaboratively develop her work 'Light Choreographies' with artists, local schools and participants at the Level Centre, Rowsley.
Angela was resident from 10 July with the aim of investigating new creative possibilities of interactive art. This included an immersive exhibition exploring how dialogues between individuals and robots can develop and offer an insight into the relationship between contemporary art and personal wellbeing. The exhibition, split across two spaces, also featured amplified ambient sound and specially developed audio. As part of the exhibition live research was conducted as to the physical effects of the artwork upon the participants.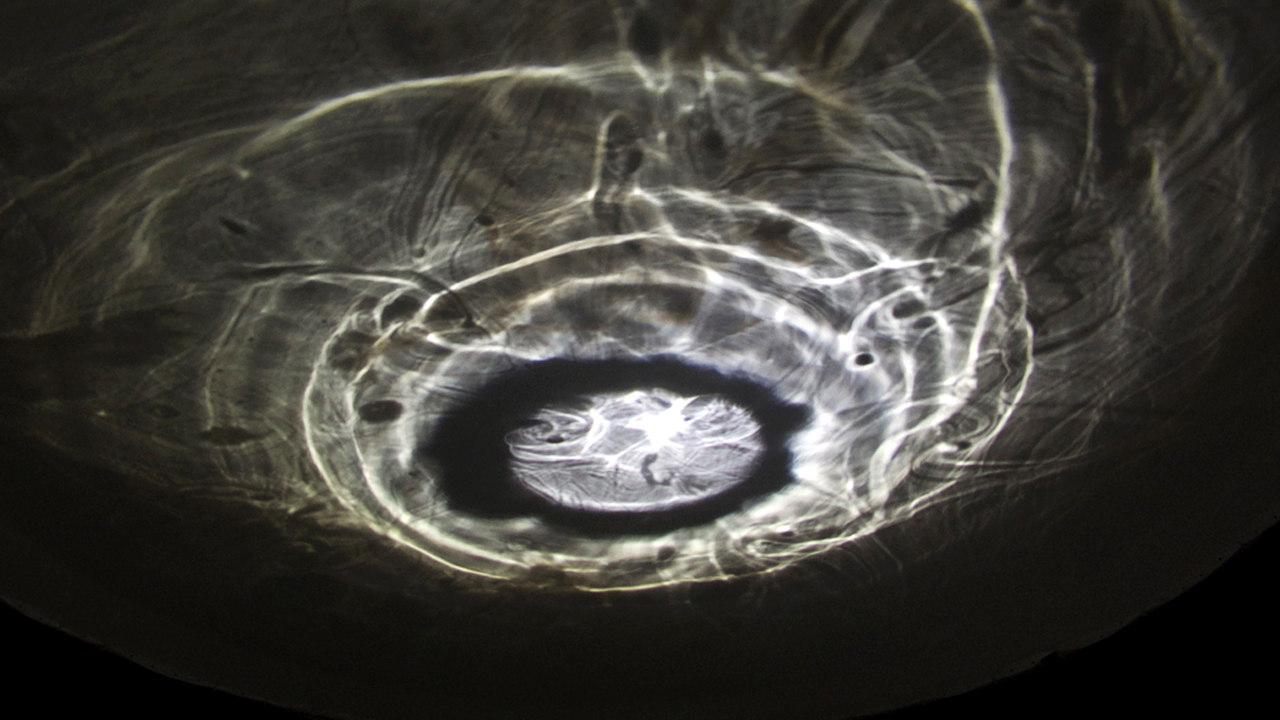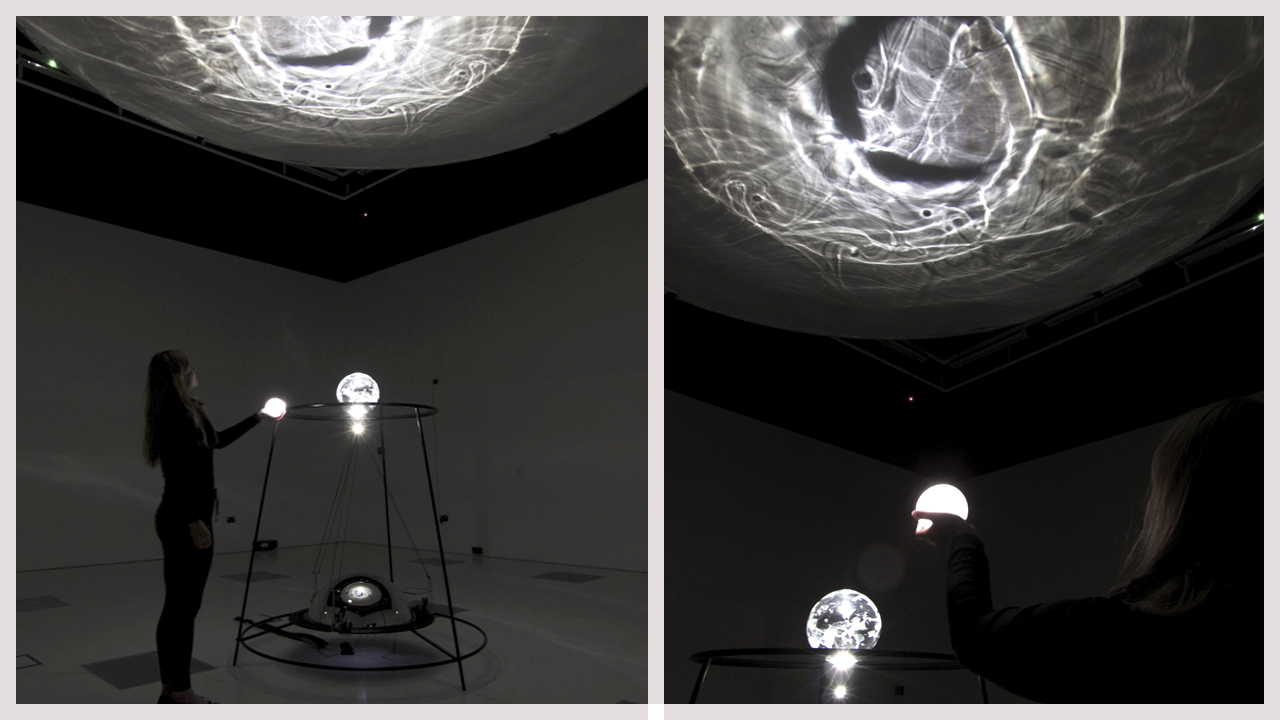 Light Choreographies (2017)
Light Choreographies combines robotics with optics and interactivity. The optical phenomena known as caustic imaging harmonises with technological systems to form an immersive choreography of light.  The light-navigating robot rhythmically rotates, spiralling up towards the fragile glass 'world'. The cyclical dance of light and projection is extended through the use of the remote sphere. A dialogue between human and robot is formed. The movement of the sensor communicates to the light and the robot maps and choreographs patterns of human activity, magnifying and animating, revealing visual patterns reminiscent of macroscopic and microscopic worlds.
Angela Davies is an interdisciplinary artist, based in Denbigh, North Wales, synthesising creative technologies with traditional processes to create innovative light installation and sculpture.
Angela is the Co-Director of Studio MADE, a cross-disciplinary studio and gallery space in Denbigh and a resident artist at Pervasive Studio, Bristol. She has exhibited on an international level and has work within public and private collections in the UK, Europe and the USA. She completed her MA with Distinction at Manchester School of Art in 2013. She has undertaken residencies and commissions for Arts Council of Wales, Cadw, the National Trust and BBC Connected Studios with NESTA. She has been the recipient of several awards including Research & Development and Production Grants from Arts Council Wales and A-N New Collaborations Bursary to fund participation in the International Symposium of Electronic Art (ISEA2014). In 2016, Angela completed the Arts + Technology creative accelerator programme at Manchester Digital Laboratory (MadLab), supported by Innovate UK and Arts Council and has been supported by Innovate UK in the feasibility of Light Choreographies.
---
ARCHIPELAGO

Interactive Installation Art from Poland
FRIDAY 17 FEBRUARY 2017
6.30pm to 9.00pm – Free event.
An opportunity to meet the artists and experience art at its most immersive.
Three interactive installations by experimental Polish artists
Gregorz Rogala – experimental filmmaker creating computer art, 3D animation and interactive art.
Joanna Krzszton – Painter creating immersive abstract paintings from photographs.
Their collaborative work invites audiences to investigate the universal language of form and sound. The installations include Archipelago, a 3D work inviting the performer to use body movements to conjure islands from the sea, and La Route Jura Paris, which allows the player to develop a musical line and images which travel in a continuous line around the space.
"The installations by Joanna and Grzegorz are extraordinary, being the work of two artists with different backgrounds but sharing the same objective of bringing to life the amazing world which attracts and intrigues, turning the audience into creators and explorers of the unknown, the beautiful and the enchanting. It is both a very physical and a very metaphysical experience. While the complicated technical issues are not to be sorted out easily, the pleasure and enjoyment of encountering this realm is immense."
International curator Malgorzata Sady
For 2 weeks from Friday 10 February the Warsaw artists will be inviting audiences of all abilities and ages to come and animate the installations, including groups from across the county with learning disabilities. Friday 17 February, 6.30-9pm is the Public Event, when local artists and audiences are invited to the LEVEL Centre to view/interact with the installations and meet the artists.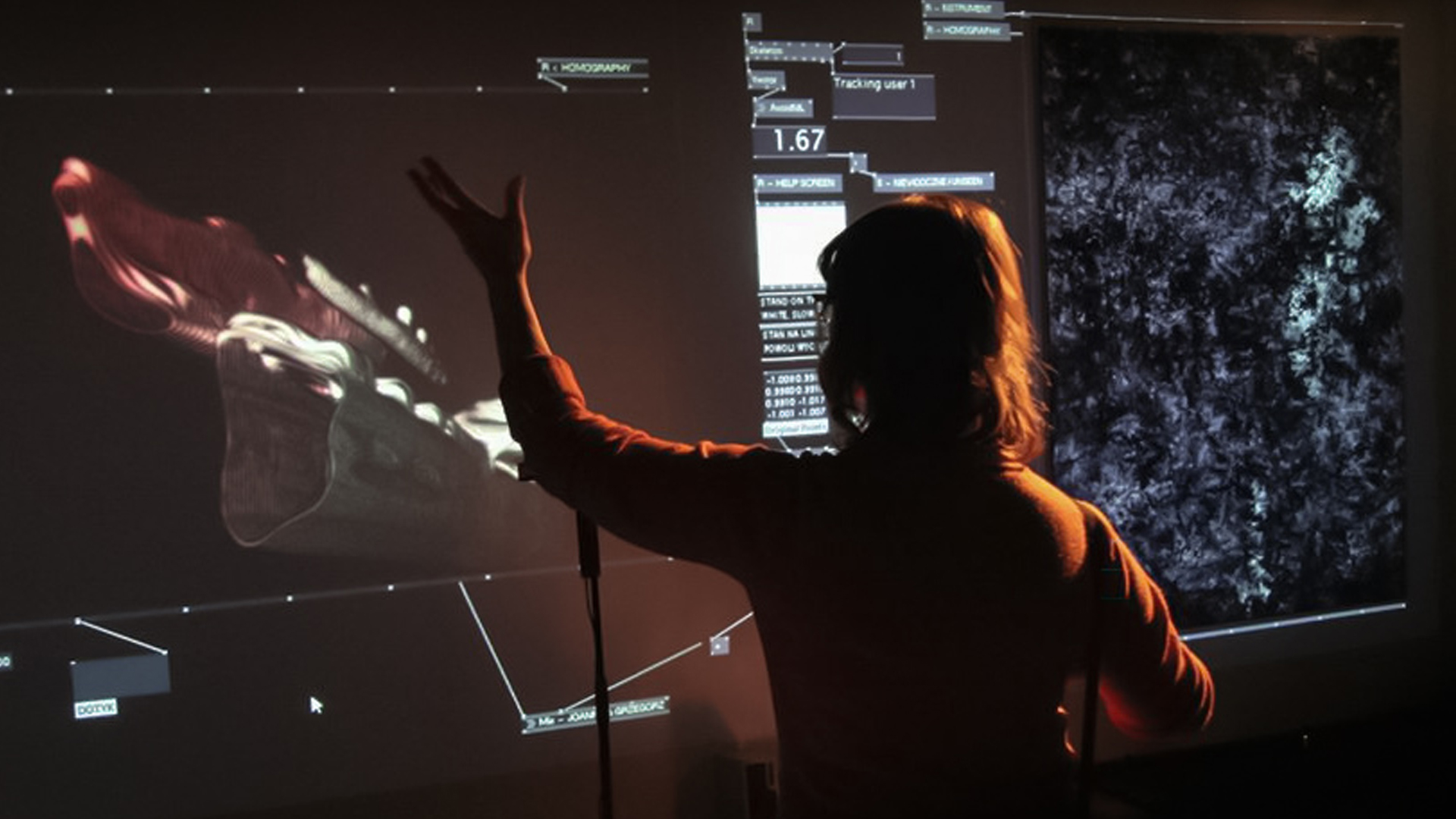 Images below: People interacting during workshops at LEVEL.
---
Furniture Music
3 May – 23 June: Level Gallery
Furniture Music was a research project and solo sound installation by Toby Heys at the LEVEL Centre. It comprised new compositions exploring sound as a sense and our reactions to sound at the very edge of perception. Furniture Music was a term coined by Erik Satie in 1917 and refers to the idea of background music or sound for informal spaces. Toby's unique sound installation plays with this idea by using frequencies that reside at the edge of human perception – played through an array of unique speakers built into specially made furniture. The sound can be controlled from a leather-clad bench in the middle of the gallery space. Furniture Music explores how these sounds renegotiate our somatic interfaces – the skin, bone and muscle tissue that we image constitutes the boundary markers between ourselves and the world that surrounds us.
Installation open to the public Mon – Thursday each week from 3 May to 23 June 2016.
For more Information click HERE
Click HERE to watch a video interview about Furniture Music (Derbyshire Times)
FROM MEMORY – An Exhibition by Tony Sutton
LEVEL Gallery, 4 November-7 December 2015
Viewing by appointment only. Please telephone to arrange a time for a unique experience.
Peak Dale artist Tony Sutton's images display a true and exact sense of place, of structure, of clear lines only aberrated by the artist's sweeping wish list.  Symbols reminiscent of musical notations intervene and overlay the un-beautiful manmade structures over landscapes mixing rural village and town. His images are maps of places real and imagined. How places should look. How they look to him.
The artist himself says he draws spiders, trees, people and anything in nature. Beloved buildings are a feature of his carefully mapped vistas, his choices broadly and tidily sweeping up the likes of Alton Towers and the Buxton Dome.
This is the artist's first major public exhibition and we welcome him to the LEVEL Centre.
From Memory forms a part of a series of exhibitions at LEVEL celebrating the extraordinary work of artists with learning disabilities.
BODY AS CANVAS: Photographic Exhibition
20 June 2015 to October 2015 at New Art Exchange, Nottingham, UK.
Developed through a process where people with a learning disability created several unstructured, improvised performance events using movement, sound and light. Each performance was based loosely upon the underlying themes of an exhibition at New Art Exchange and captured using a digital camera – framing just a fraction of a second of the event. The camera became the audience for the performance and its presence influenced how people reacted and wanted to be presented within its frame. Body as Canvas presents the individual images as statements – a behaviour, a culture and a source of creativity where difference shines – a cultural world yet to be acknowledged. The photography uses soft focus and shallow depth of field to give emphasis to the individual within each frame.
See Body as Canvas for more info
LIMESTONE JOURNEY
18 July 2015: Creswell Crags Visitor Centre, Derbyshire, UK
A audio visual installation created by LEVEL commissioned by Junction Arts. It presents a slow moving visual landscape using the unique heritage and biodiversity of three locations, Pleasley, Poulter and Creswell, as a catalyst and source of inspiration. The work comprises several elements: Photography, Visual Art, Sound Recording, Film and Performance, combining them together to create a 25-minute audio visual journey.
A full multi media version of this installation is currently under development  and will form a part of  the LEVEL Gallery programme during 2015.
Video Stills from the Creswell Crags Visitor Centre are shown below:
The Derwent Pulse Legacy Exhibition

Derwent Pulse wove together past, present and future histories of the river, its culture and its people. Its pulsating light flowbeat out the historical pulse of the mills as it travelled from the river's source on Bleaklow to its mouth on the Trent.
Charting the Future helped riverside communities to reflect on their river. Working with artists, designers, writers and musicians they produced maps, images, poems and songs that celebrated the River Derwent and shepherded the light flow along its journey. This celebration marks their contribution.