Use our Accessibility Toolbar to customise your experience on The LEVEL Centre Website
Radical Body and Level Centre present:
From PIP assessments, to media representation, to the opinions of strangers on the bus; so much of life as a disabled person is defined by the ways that other people see us. Consciously or not, most people have ideas about how they expect disabled people to look. Those of us who meet these expectations find that our abilities are dismissed, while those of us who fail to meet them find that our struggles are disregarded.
With Radical Bodies, we aim to provide a rare opportunity for disabled people to define their own image. These self portraits were made with the complete creative control of the artists they represent; they are a reflection of the agency and individuality that is so often erased in our public image. In sharing them, we invite you to consider disabled people as we wish to be seen, rather than how you expect us to appear.
Katie (Tom) Walters is an autistic and physically disabled artist working across a wide range of disciplines, including performance, sculpture, poetry, and multimedia arts. They have a strong interest in exploring the relationships between disability and nature, challenging the historically prevalent stereotype that disabled bodies are somehow unnatural. They have created work for organisations including CRIPtic, Unlimited, and Theatre Absolute.
Elle Chante is an artist, model and producer based in the West Midlands. 'Between' is a piece that tries to describe the difficulties of existing without fitting into simple categories. 
Elle's experience of identity has been complicated. Being adopted, mixed raced and suffering complex mental health and physical health has been – at best – confusing and – at worst – completely alienating. Often not being enough of one thing to belong, she has frequently slipped through the cracks of communities or initiatives due to not being 'black/white enough', 'sick enough' or 'upset enough'. Elle has struggled to get help in a world where pain must be over a single certain threshold to be factorable and intersectional complex issues are rarely accounted for. Alongside the pain of existing with difficulties, lies the pain of being misunderstood and invalidated.
Society can be extremely unkind to those who don't fit into tick boxes and 'Between' tries to show the discomfort of that.
Assisted by Kirsty Bailey.
Jameisha Prescod FRSA is an artist-filmmaker, producer and writer from South London. Specialising in documentary, experimental film, video journalism and immersive visual art, they are driven by authentic storytelling and apply creative digital techniques to uncover powerful human experiences.
​Jameisha is also the founder and creative director of You Look Okay To Me, the online space for chronic illness. They explore the social and cultural aspects of living with a chronic condition through visual mediums. Since the project's inception, the community has grown to almost 30,000 online.
​Added to their work as a visual artist, they are also writer and wer recently included in a republishing of Virginia Woolf's "On Being Ill."
​Jameisha is currently a resident artist at Forma Arts London and a trustee for London Arts in Health Forum.
www.jameishaprescod.com
Radical Body is a disability arts organisation. They produce challenging new performance art by and for disabled people – aiming to destabilise the norm by creating art that is as radical as their bodies are. They create work that authentically expresses disabled perspectives on an often inaccessible world.
www.radicalbodyarts.co.uk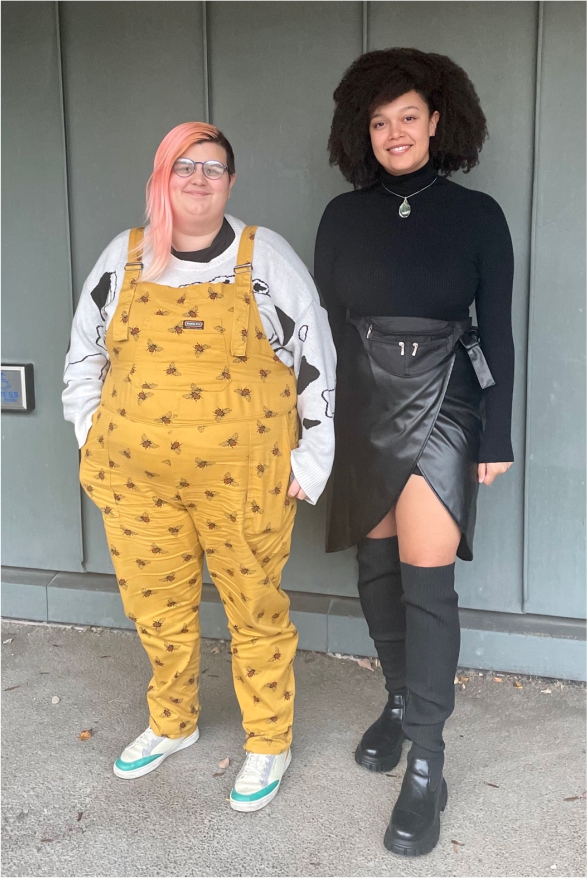 Co-Founder Katie (Tom) is an autistic and physically disabled performance poet who makes work about their life as a queer cripple who can't stop thinking about trees.
Katie looks after management, communication and admin at Radical Body.
Co-founder Chantel (also known as Elle Chante) is a disabled musical self expressionist, model and photographer based in the midlands. She is very passionate about breaking down the stigma behind mental health and disability and is a massive believer in sharing experiences through community.
At Radical body Chantel mostly works on design, organisation and artistic input.