Visual Art Exhibition 2022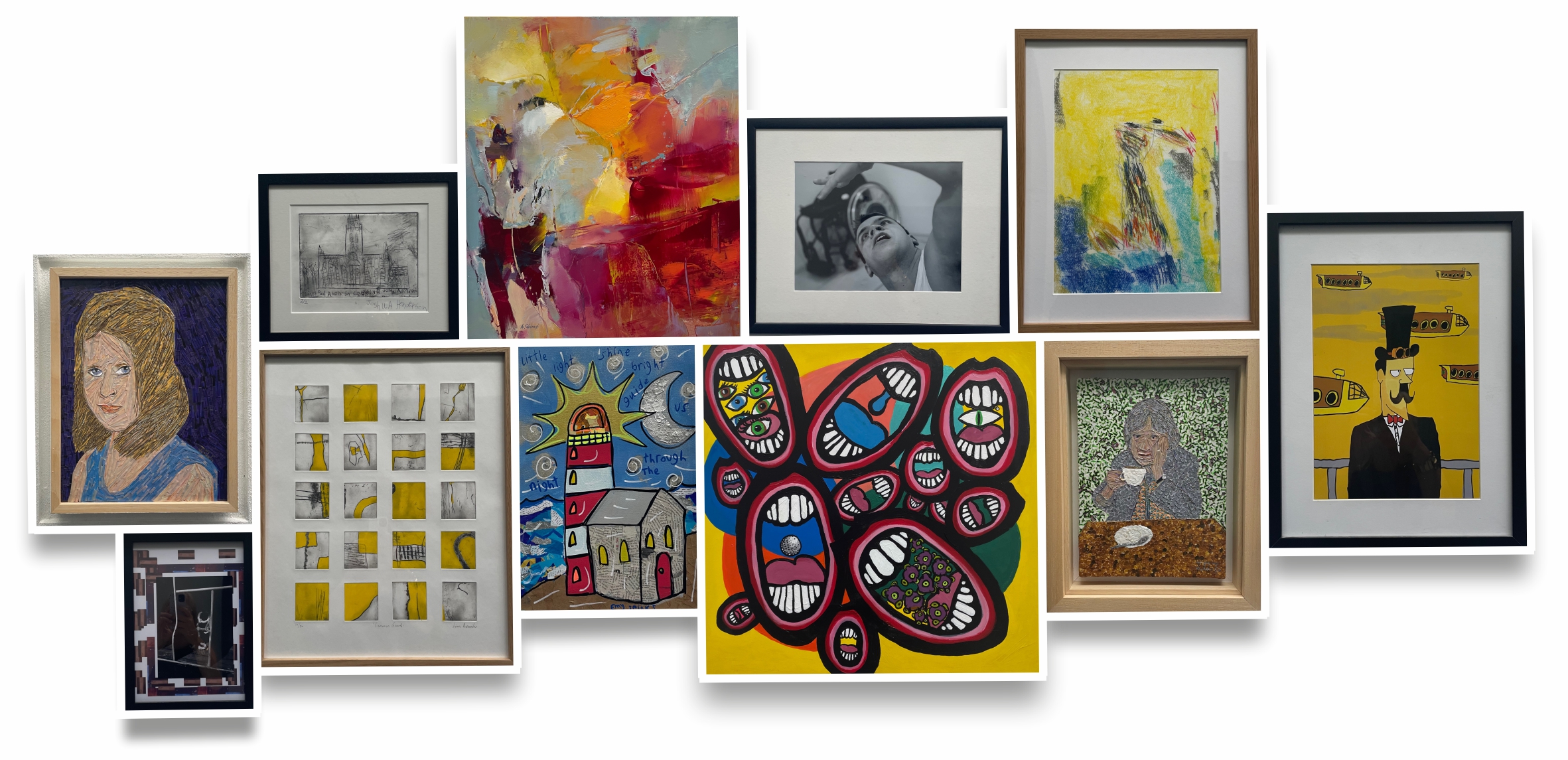 The 2022 Public Visual Arts open call has  attracted disabled and non disabled contemporary visual artists across the UK. Selected pieces have been shortlisted by a panel of industry professionals to be part of the public exhibition at LEVEL Centre over the summer.
The standard of submissions was outstanding, showcasing art that celebrates 'the Art the Difference Makes'. The panel selected their favourite two pieces to win first and second prize.
First Place:
'Bird in a Frame' (oil pastels on paper)
by Norman Tomlinson
Norman likes birds and the colours of birds. The inspiration behind this artwork came from looking at books and a photograph of a penguin on ice that Norman particularly liked and chose to draw.
Second Place:
'Isolation' (collage using recycled materials)
by James Owen Thomas
James wanted to tell the story of his grandmother's feeling of isolation during the pandemic, and represent how so many elderly people were completely alone and unable to see their families and friends during this difficult time. His use of rainbows in her clothing are to remind us that these were symbols of hope and our way of thanking the NHS. The colourful rainbow cardigan also represents a more hopeful time ahead for his grandmother now she has company and is attending a day care dementia group. She has made many new friends since living with James' family in Yorkshire.
Being on the panel was a fantastic opportunity to explore the wealth of talent and get to know more about the visual art practices of learning disabled, neuro-diverse and disabled artists in the UK. Both selected artists have created work that is wonderfully engaging. I know visitors to LEVEL centre will be captivated by all the fantastic artwork in the exhibition."
Public Choice Award
First and second place may have been decided but you can still vote for your favourite piece in The People's Choice Award, sponsored by Turners Arts Supplies!
You can vote by visiting the exhibition in person at LEVEL or online below
until 5pm on Tuesday 30 August.
Please only vote once for your favourite piece.